How to improve productivity in the construction industry?
One of the largest industries in the world economy is the construction industry. Like any other industry, it faces many challenges, such as cost overruns, low-profit margins, and extremely tight deadlines. However, out of all of these challenges, the one that stresses contractors and business owners the most is productivity.
One of the most significant contributing factors to the low productivity rates that this industry is famous for is a stagnant habit and heavy reliance on utilising traditional processes and shying away from innovation. Let us explore the following article to understand how you can mitigate this lack of productivity and boost your operations.
Tips to improve productivity in construction
Let us explore how incorporating these tips can improve productivity:
Appropriate planning: Before starting a new project, ensure that everything is in place and that you have a proper plan that outlines specific details and necessary operations for its completion. Proper planning can make all the difference in productivity levels. Begin by researching the various elements that a project has. Analyse inherent risks to create plans and anticipatory interventions to tackle anything the future may bring. One of the unique aspects of construction projects is that they are very uncertain, and hence it becomes imperative to make a plan for every situation so that productivity does not deteriorate, irrespective of whenever the situation escalates. Your plan should incorporate a comprehensive list of resources, processes, materials, logistics and schedules. This will allow you to delegate responsibilities and align tasks in advance so that you can adhere to the project goals and timelines. Construction management software, like Edara Software, can help you plan and schedule everything smoothly.
Wholeheartedly embrace better workflows and technical innovations: As mentioned above, one characteristic feature of this industry is its evident hesitation to adopt innovation. Most companies still rely on archaic methods to collect data and take business decisions. If, on the other hand, technical advancements are utilised for data collection, it can lead to the creation of strategic metrics, helping project managers take evidence-based decisions. This will help you uncover patterns that hamper your organisation's productivity, helping you create relevant solutions. Moreover, productivity will improve if businesses embrace technology by equipping construction workers with the necessary software and tools to help them build faster and better. For example, instead of utilising obsolete methods of communication, businesses can get access to real-time data, which can help improve adaptability to unpredictable events. Such tools also ensure that business continuity is not hampered in case of adverse events. Similarly, managers can track their work processes more accurately by utilising project management software. They can host pertinent documents like change orders, work reports and plans in a centralised location. This will save a lot of time, as traditionally, workers waste a lot of effort in manual record keeping and searching for the correct data. Companies can use this time to move things ahead and complete projects beforehand.
Prioritise safety: According to a recent study by the International Labour Organisation (ILO), one in 10 construction workers has a significant injury yearly. Take a minute to let that sink in. Now, just think of the loss of productivity that your business can incur if any of your specialised or highly trained workers gets injured. Hence, it is time to stop being reactive and invest in being proactive. Investing in safety programs and providing your staff with the necessary training tools and techniques to promote their safety, well-being, and health is vital. Moreover, productivity improves when workers understand that the organisation truly cares for them. When you provide additional training to ensure that safety is never compromised, you inculcate enhanced trust in employees in your work ethics. This can drive productivity levels. Consequently, you will avoid delivery delays by maintaining low accident rates.
Invest in material planning: Organising your work site and investing in material planning shortens the distance for transporting machinery from one place to another. It also ensures that the required material moves faster around the sites hassle-free. As a result, you can apply controls to prevent material wastage and breakage, which increases practical storage. With adequate resources, productivity automatically increases.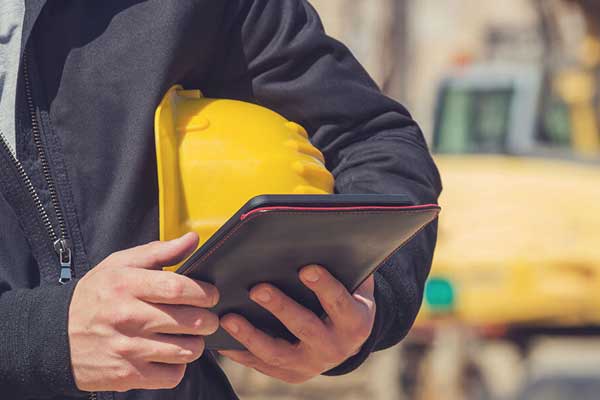 How can construction management software improve productivity?
Construction management software, like Edara Software, allows contractors to draft an integrated work environment, incorporating the expectations of project stakeholders so that everyone remains on the same page. By keeping all the documents in one place, contractors can access necessary procedures and processes to ensure that project delivery occurs on time, and within budget, without compromising on quality or profits. Moreover, it takes care of the essential components of an effective construction project plan, including documentation, baseline management plans, and safety reports.
Also read : " how to write a safety inspection report? "
Conclusion
Productivity in your construction company will organically increase if you embrace technological inventions, invest in material planning, prioritise safety, and spend time creating feasible plans.