Digital Timesheet
Digital timesheets provide an effective, sustainable, customisable, uncomplicated alternative for tracking simple and complex time-tracking solutions.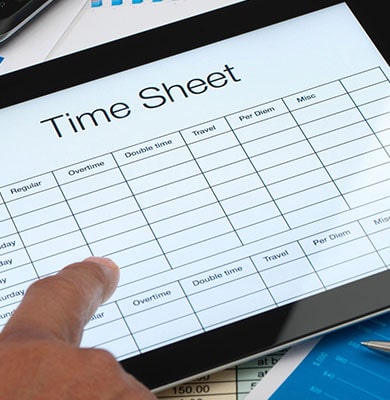 Any business with multiple employees must maintain track of the hours each employee works; sometimes, more than a paper document is needed. A digital timesheet provides a detailed breakdown of time spent on different tasks, helping managers understand their employees' workflow, productivity, working style, and potential time drains.
Team task management
In the construction industry, multiple tasks are happening at the same time. Paper sheets are often stored with the supervisors, employees need access to these sheets, and sometimes, supervisors misplace reports. Digital timesheets give everyone access to the same central database, allowing controlled access based on the user type, where users can only see their level-relevant appropriate information.
EdaraSystem software allows enhanced collaboration, better time tracking, and faster processing.
Professional reports
Making corrections in daily reports, whether spreadsheets or paper, is time-consuming and tedious. Additionally, modifications are almost always updated a little late. There is always a time lag between physical updates and real-world corrections applications.
In contrast, corrections are instantaneous on digital professional reports, thereby enhancing data accuracy, proficiency and usefulness.
Time commitment
Our automated timesheet software allows real-time project, equipment and workforce management by analysing employee performance through monitoring attendance and hours worked and overseeing scheduled and unscheduled absences in one system.
By understanding this information, managers can effectively and efficiently allocate their company's time, materials and other assets to increase productivity and efficiency.
Using our digital timesheet, the burden of the administrative staff will be significantly reduced as the app