How to decrease risk in construction site?
The unfortunate truth about the construction industry is that construction site experiences more workplace deaths in comparison to any other industry. As the construction sites are peppered with heavy-duty machinery and power tools, it is not surprising that sometimes construction workers face many risks at the site.
In addition to safety risks, security is another primary concern for construction sites, as vandalism and theft are commonplace, making sites notoriously dangerous projects. In this article, we will discuss the technological innovations and best practice steps that can be implemented to decrease risk in construction sites.
Conduct a risk assessment to become aware of the risks
The first step to creating safety on the construction site is understanding the risks. For this purpose, you must conduct a detailed risk assessment before your workers and employees step foot on the construction site.
The risk assessment should involve a comprehensive survey of the site to identify causes of potential harm. If any issue is identified, it should be written down, and every worker should be made aware of it.
Moreover, construction sites are also magnetic for criminals because it contains high-value items such as materials, generators, or vehicles. Therefore, you must become aware of these threats and place appropriate security measures.
Utilise the latest technology
Many innovative solutions and tools can be utilised to mitigate construction risks and improve site safety.
For example, you can install site surveillance cameras to improve security. Site surveillance videos can also ensure that employees adhere to the correct safety standards, such as wearing Personal Protection Equipment (PPE) when required, and can help to reassess unfortunate events if they occur. Surveillance also helps to protect assets from thefts providing peace of mind to business owners.
Add meaning to site meetings
It is essential to ensure that site meetings are more than just an exercise for box-ticking. Employees should be encouraged to speak up about any safety hazards they have noticed or security issues they might have encountered. Talking about safety and security helps foster a culture where safety is never compromised, and everyone looks for potential risks.
Provide regular training
One thing you must understand about risk is that it is futile to implement controls or measures without providing adequate employee training. Appropriate training ensures that everyone on the construction site is competent to a reasonable level and understands what to do in an adverse event, which is vital to maintaining good workplace safety.
Now, training is a broad topic and can include everything from how to appropriately utilise machinery, ladder safety or cleanliness of the site. Similarly, when talking about security, training can help reduce the burden on the control. For example, employees trained in vehicle venerability would understand the protocols, such as where to keep the keys and how the unattended vehicle should be left.
Training also allows employees to remain updated about constantly changing arrangements and different access points that can enlarge vulnerabilities.
We also suggest to read the article "what is OHS in construction?" from Edara App blog.
Essentials of job site security
As mentioned above, surveillance can play a vital role in maintaining the security of construction sites. Similarly, utilising other tools and security essentials can further enhance the security of the work site, including:
• Alarm systems and signage: Alarm systems and signage that are highly visible can act as a strong deterrent and a quick alert system if security breaches occur.
• Access control: You can control the access points through secure gating and managing the entrances. Similarly, lighting provides a visible deterrent around access points, and fencing or barriers protects the site from the gaze of opportunistic thieves.
Implement an Occupational Health and Safety Management System (OHSMS)
An OHSMS provides organisations with a structural framework to identify any potential hazards, risks or security threats, as well as comply with various regulatory norms that improve the security of your site.
Although many safety standards are available, ISO 45001 is one of the most popular standards focusing on workplace safety. To implement this management system, you can hire an ISO consultant who will observe and inspect your current security practices and compare them with the recommendations of ISO 45001.
Based on the recommendations, you can build a robust management system that not only enhances the safety of your site and protects your employees but also helps you save a lot. You can use occupational health and safety management software in the workplace to succeed in OHSMS.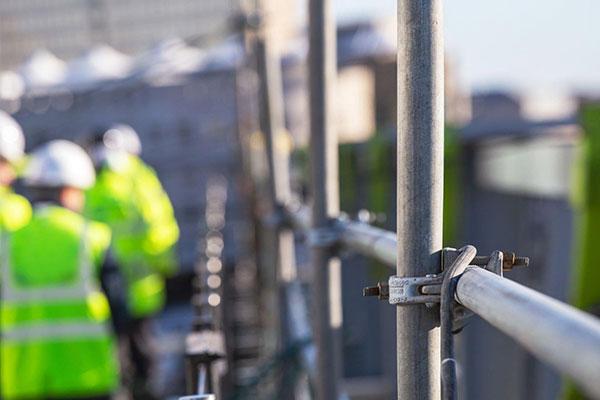 Conclusion
Construction sites are inherently risky and filled with security and safety threats, but regardless of the challenges a specific site presents, minimising these risks should always be a priority.
By adhering to the practical points that we have discussed above, it is possible to safeguard your workplace against interruptions, accidents or losses while creating a productive job site that is safe and where people want to work.